If you are not a cartoon freak, enthusiast, or diehard Superheroes' fan, you can very well skip this read. It's cool, we would forgive you.
But if you're part of us; whether as a kid who looks forward to catching all the superheroes showdowns on the weekend or as an adult who stays late at night to peep on cartoons alone when everyone is asleep (yeah, we know how you feel, it can be a bit embarrassing, but adults love cartoons too); stay tuned! You don't want to miss the gist about DStv and GoTV new pop-up cartoon channel, TOONAMI!
Late last month, DStv and GoTV announced the launch of the new Superheroes channel, TOONAMI to air as a pop-up channel on DStv channel 300 and GoTV channel 71. TOONAMI is a WarnerMedia's channel and has been in existence across Africa for the past three years. The channel is designed for kids especially between the ages of eight and 12, offering non-stop and 24-hour top-rated cartoon series such as DC Comics' Batman, Superman, The Green Lantern, Young Justice, and The Justice League as well as popular animated series Teen Titans, Throne of Atlantis, Monster Mayhem, among others. Wow! Talk of Superheroes overdose. . .
So we decided to wait a bit, enjoy the channel and review all the promises of 'action' and 'pulse-raising' enjoyment made by DStv and GoTV when launching this new channel. Trust us, it is as entertaining as promised! There's something for everyone across all ages of cartoon lovers, from standard 2D graphics to 3D Green Lantern cartoons. Enjoy epic throwbacks of DC Comics' Superman or hook yourself on new series of Young Justice. The Batman storylines would keep you glued to your TV (don't say we didn't warn you). You simply wouldn't be able to change the channel once you start!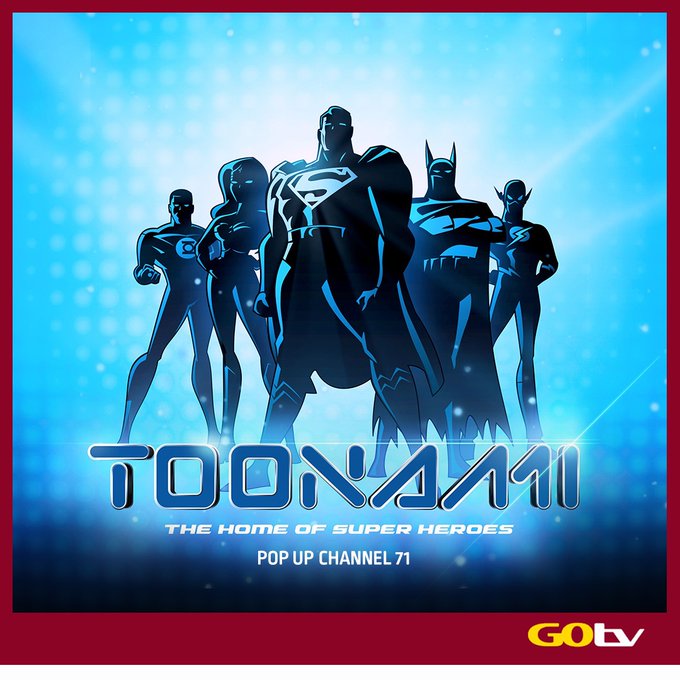 TOONAMI is available on all DStv packages, GOtv Max, Jolli, and Plus packages, so you wouldn't be left behind no matter your subscription plan. To start enjoying this channel, simply subscribe to your DStv and GoTV right away. Log on to www.vtpass.com to make your subscription right from your mobile phone or desktop while experiencing quality convenience. No need to step out of your house.
Don't miss out on this non-stop cartooning entertainment!